The importance of selecting a competent customs broker immediately becomes clear when you consider the official greeting that each and every import shipment receives upon entering the United States - 500 pages of U.S. Customs regulations and thousands of tariff items. Licensed by the United States Treasury Service, our dedicated and professional staff will see to it that your import shipments receive all the attention and care that they need and deserve.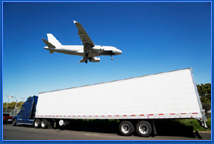 Here at CCB International, we know that every one of your shipments is unique and every one is important. That's why it is our commitment to provide the absolute highest level of service to our clients. You as an importer recognize that quality service is the single greatest factor separating excellent customhouse brokers from the merely adequate ones. For that reason, our staff is well versed in precisely determining proper classifications and dutiable values and is fully aware of the vast number of commodities subject to quotas. We'll see to it that tariff classifications and duty assessed on your inbound cargo are always accurate, saving you money and avoiding costly reclassifications by the Customs Service.
Furthermore, as a member of the Automated Broker Interface System (ABI), our computers are tied directly into the U.S. Customs computer mainframe. This enables us to speed the clearance of your cargo and provide you with the most current information pertaining to the status of your inbound freight.
Whether you're importing tennis balls, tow trucks, or trash compactors, rest assured that your freight receives the personalized attention necessary to obtain the fastest possible Customs clearance, comply with all U.S. Customs regulations, and speed your cargo along to its final destination.
Finally, choosing CCB International as your customhouse broker means taking control of the costs associated with your Customs clearances. Unlike others in our industry, we at CCB International place greater importance on your satisfaction than on our own bottom line. You can rest easy knowing that the rates you are quoted are the rates you'll be charged - without those surprise add-on charges that are so popular with brokers these days and serve only to pad your bill.
Here at CCB International, savings is not just what we promise, it's what we deliver.
CCB International...Professionalism, Speed, Savings...The Right Decision